As we understand here on WhiteShade the world works in a cyclical nature. Things come and go, and come back again in slightly different forms. And as we know, the cycle can never be stopped, the wheels of time keep turning despite our greatest protest. With enough force the wheel can be made to lurch, or skip like a record, and perhaps it can even be knocked off course or delayed; but never for long.
A number of us in this movement are hostile toward technology, and for a long list of very valid reasons:
Our growing dependency on it
Future solar storms making electronics dangerous
The ability of many devices to become addicting
How our ancient cultures have no text that can relate to recent advancements
Technology and it's role in European society is an important thing to address as there is much wrong with the current system, but the solutions I have seen so far are wrong as well. Some propose the culture ignores it, whilst others wish to twist back the hands of time to erase it. Same as with turning back a record, the later just assures that we're find our way back to our current situation again later after having gone through the same tries a second time. And as any European, I hate repeating things un-necessarily.
At this point in time we're on the tail end of the Industrialization era: the era that destroyed and polluted the land, ended up with our people crammed like sardines within the cities, an era which made many honorable professions 'redundant,' brought disease, even worse quality of food/water/air/earth, etc. Those who hate Christmas must love December 26th because that is the day furthest away from Christmas. So please for the love of the Gods, let's get ourselves through this point in time, rushing it if we must, so that we can be as far away from it as humanly possible.
We are entering both the age of minimization, automation, post-industrialization. Allow me to address how each of these advancements bring us closer to the lives of our ancient ancestors; and how staying on this path will get us there quicker than trying to go back through these miserable eras of time.
Minimization: The home offices of the 1600s and 2100s will look nearly identical whilst the offices of the past few decades were filled with wires, bulky monitors, and loud pc towers. People in the 80s/90s had in their possession: an alarm clock, books, calculator, camera, cassette player, CDs/DVDs, camcorder, computer, GPS, games console, pager, phone, tapes, television, turntable, radio, VCR, vinyl, watch.. and I could keep going. People these days have a phone.. a single device that(while not always to same same standards) replaces every single one of these.
How about just focusing on one simple task for a moment, listening to music. In the 1970s if you wanted to listen to recorded music with a decent quality quality you would have likely had something similar to this: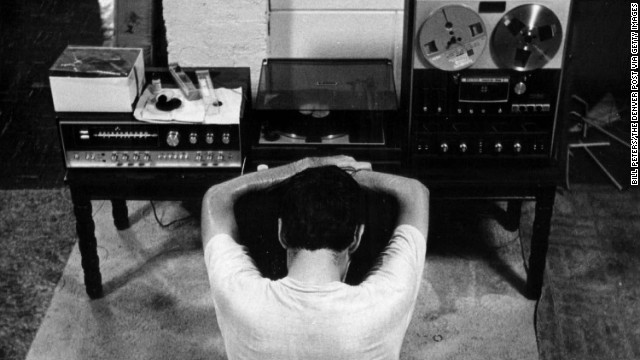 And let's not forget the record collection, assuming the same number of albums the average person has today, taking up many shelves in their home.
Is it any wonder people tend to stick to one home? Is it any wonder few people feel they can live more nomadicly as our ancestors did? And yes.. I did above mention books! Even more so than records a library can make for a very difficult move, our ancestors had oral traditions, they did not rely on books for their storytelling and knowledge. Now what may I ask, what is available to people today? To get rid of all this clutter that makes moving, traveling, and flat out getting out of the house nigh on impossible.
Some of you may know what this device is, and some will not. It is a digital-analog converter & a headphone amplifier. It fills both the role a turntable & phono-amp would have in the past, as well as that of the amplifier. That is of course provided you wish to use headphones which replace the monstrous speakers of yesteryear. And if you prefer speakers, they make those much smaller and with built in amplification these days, some even have a converter on-board as well. Now for this modern device to work you do need either a phone or computer to hook it up to, but we've already assumed one of those devices has replaced the large list of those from the past. The day will come soon where a nomadic life is yet again possible, where travelers are no longer outcasts amongst a society, and they will still benefit of the technology created in the past century. Technology such as devices which bring music and art directly to you.
Automation, in today's world it is a scary concept. The current economy is already suffering unemployment, replacing even more people with robots will make the problem much worse. As I've already covered in my previous post on business and as I will again cover in the future, my ideal is a time in the future where salaries can sustain workforces doubling their numbers(and hence cutting each employee's hours in half if not even further.) Imagine a world where employees see a % of the total profit and each person can make the choice to not only cut his hours(and still be able to feed himself) but also bring another person into the workforce. Even just eliminating the lunch break(if people only work 4hrs a day it can be expected that they'd eat at home) will bring an extra hour 'worktime' to every single job at every single company. Simply, one employee leaves at lunch time and goes to eat; and the other has finished his meal at the same time and is on the way to work.
If this seems unrelated to automation, it isn't. When the workforce can support many times more people, less people will be forced into torturous factory/menial labor careers. Hence automation, which will become the natural progression anyways(as companies were forced to outsource to remain competitive with the first company to do so, it only takes one greedy sod in the modern Capitalist system) can take over without leaving people on the streets and starving. Another large advantage to this is that the people themselves will be able to dedicate more time to design and 'form' rather than simple function(that must be simple enough for the Chinese slaves to build quickly), and those who want things handmade will see a less saturated market, where those who do everything themselves with hand tools will stand out all the more. Do you want a computer's precision or that of a craftsman? Cheap/shoddy labor need not apply.
And because of automation devices will be made even smaller. No human can put together a small circuit with millions if not billions of transistors, which is necessary for the process of minimization. Going back to the above topic, the average home will end up filled with large works of craftsmen; and tiny electronic devices(doing all the things technology does) will be easily put out of sight and out of mind. There will be a clear divide between the crafted and the electronic. This will fly in the face of today's trend of 'lifestyle electronics' that can blend in with the home decor, such devices will simply be tucked away when not in use due to their size. We needn't stare at things on a daily basis which were not crafted by skilled human hands.
And this carries me into my third point. The post Industrial world, a world without large consumer devices scattered about the house. A world where all data is stored 'in the cloud' and all non-appliance devices are pocketsize. The houses of the future will be as neat and focused on well-crafted furniture/decoration as were those many hundreds of years ago; in stark contrast to the complicated circuits/cheap plastic enclosure of electronics today. Sure you will find a keyboard where there used to be a stack of papers; but you will also find clear space where the bulky CRTs of yesteryear dominated many a home office. Cables eliminated as the world goes wireless, and bulky 'consumer products' long gone; again there will be a sense of living in a home rather than a spider's web of gnarled cables making your home look like a madhouse with blinding LEDs, whirring fans, and the life support of all these machines scattered all around.
And naturally with the downsizing of electronics, all devices will be grace our thoughts much less so than they do today. It is normal for us humans to give things priority based on how much of our space they take up. A house or car for example is assumed to need much work and time dedicated to it. As things shrink, the mind sees them of less importance. We will not stop talking on our phones nor using them to do simple tasks such as checking the weather, but I can guarentee you will not find people clocking away 8+hrs of gaming on a phone whereas they would do so with their home computer. And home gaming will switch over to VR, whereas it gives you a complete isolation from the world that will leave you fulfilled much sooner than would sitting in a room with a monitor. As the culture again becomes more social, and the technology isolates people more they will naturally regulate their electronic hobbies as to not affect their offline life. With a culture promoting learning both how to do things the old fashioned way and with electronics, many may even find themselves preferring doing things manually as doing so is more social and brings more fulfillment.
Hence my conclusion is that we are on the tail end of the Industrial/Modern age and swiftly moving into the next part of the cycle. As we do so I see the focus returning to reality and the concrete, priorities again switching to the community and the Earth, and away from Escapism, Isolationism, and boredom. With this change comes a challenge that none of our ancestors in recorded history have run across, a way for our generations to prove ourselves in a way we haven't had the chance to before. And that challenge is, learning to set your own limits and being in tune with your weaknesses with regards to technology. We have the world at our hands: endless information & entertainment. Once we withstand this era, those of us to plow through it will no longer fear the much simpler concrete vices of drink, lust, and endless pleasure. We will have already mastered it in the digital domain, a domain that connects with us less but which was able to more directly fulfill our urges. We will be un-corruptable and that is what technology has given us. It is a challenge much the same as any war, food shortage, plague, etc. You can hate it all you want, but it is the way you are to prove yourselves. Not every generation has the blessing of confronting something new, as our ancestors did many times before. We have the same blood they did, and we will write the lessons for those who follow. Being European in blood is not about reading and learning history all day long, it is also about continuing the writing of history, as much as we go through, there is always history to be made.